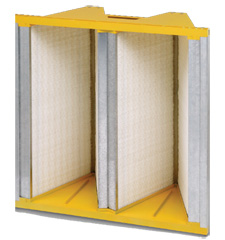 [+]
Titan
[ ]

Filtration Group Titan FP Filter ~ is constructed with the highest quality components available. The high impact plastic frame, steel struts and micro-glass media work together to form an extremely rigid filter suitable for normal to hostile environments. The Titan FP is designed to be sued in variable air volume (VAV) systems and recommended for use in constant velocity systems as well. ~ Titan FP's proven V-bank design provides maximum airflow conditions, while providing nearly complete media utilization. Dead spots due to aluminum separators and other restrictions are virtually eliminated. The aerodynamic construction minimizes, and in some cases eliminates, the need for prefiltration. The Titan FP is extremely light, reducing stress on the installer and promoting a safer work environment. The built-in-handle eases transporting the filters to the installation site. ~ The Titan FP is designed to handle nearly all types of conditions: 100% relative humidity, turbulent air flow, intermittent exposure to water, repeated fan shutdowns, desert and marine installations. Titan FP is engineered for hospitals, turbine, industrial, commercial and original equipment applications.



View Spec Sheet |

Available Sizes/Dimensions |

Buy Now


© 2020 Filter Sales and Service, Inc.