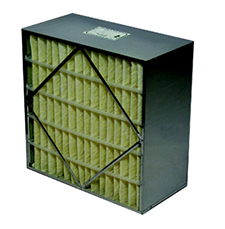 [+]
Riga-Flo_box
[ Box Style Rigid Media Filters ]

• Supported media unaffected by varying airflow or turbulence. Microfine high loft media blanket has long life and maintains efficiency throughout the life of the filter. Best in class, saves enery and lasts longer than other box style filters. Guaranteed to 10" w.g. for the highest structural integrity of any box style filter. .
.
Description: High efficiency supported media box filter. .
Typical applications: Built-up filter banks, rooftops, split systems, free-standing units, package systems and air handlers. .
Efficiency: MERV 9, MERV 11, MERV 13, MERV 14 and MERV-A of 9, 11, 13 and 14 respectively. .
Media: Microfine glass media in a uniform high loft media blanket with a synthetic micro mesh media backing. (Non-metallic media backing). .
Recommended final pressure drop: 1.5" w.g. when operated at 500 fpm. System design may dictate alternative changeout point. .
Temperature: Maximum continuous operating temperature of 200º F (93° C). .
Ratings: ECI value of four stars, UL 900. .




View Spec Sheet |

Available Sizes/Dimensions |

Buy Now


© 2020 Filter Sales and Service, Inc.