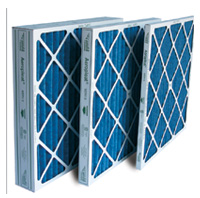 [+]
Aeropleat III
[ Pleated Panel Air Filters ]

Low maintained pressure drop for longer filter life. High wet-strength beverage board frame creates a rigid and durable enclosure. Welded wire media backing to maintain radial pleat configuration. Available in 1", 2" and 4" depths. Excellent choice for those who change filters based upon time or PM program.

Description: Medium capacity pleated panel filter.
Typical applications: Prefilters to higher efficiency filters, stand-alone filter for rooftops, split systems, free-standing units and package systems and air handlers.
Efficiency: MERV 8 and MERV-A 8 sustained efficiency when evaluated under ASHRAE Testing Standard 52.2.
Media: Proprietary blend of meia fibers in a uniform lofted blanket.
Recommended final pressure drop: 1.0" w.g. when operated at 500 fpm. System design may dictate alternative changeout point.
Temperature: Maximum continuous operating temperature of 200º F (93° C).
Ratings: ECI value of three stars, UL 900.




View Spec Sheet |

Available Sizes/Dimensions |

Buy Now


© 2020 Filter Sales and Service, Inc.