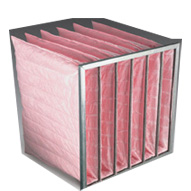 [+]
Soniq Bag
[ ]

Filtration Groups Aerostar SoniQ pocket Filter ~ offers high efficiency filtration while maintaining low resistance to airflow. The non-shed media eliminates fiber migration downstream and the ultrasonic welding provides lower resistance with no disruption to the integrity of the filter. The open throat design and the precise pocket spacing produces a product that is aerodynamically balanced and provides excellent all-round performance. ~ the SoniQ Pocket Filters are designed as primary or secondary filters in heating, ventilation and air conditioning systems. Superior dust-holding capacities allow these filters to be used in most commercial and industrial applications as well as hospitals, automotive plants and biotechnology facilities. ~ Certain specialty applications such as oil mist, fume and grease collection require Fiberglass or Class 1 Pocket Filters. SoniQ Pocket Filters can be sued in most standard built-up filter banks or side-access housing systems.



View Spec Sheet |

Available Sizes/Dimensions |

Buy Now


© 2020 Filter Sales and Service, Inc.