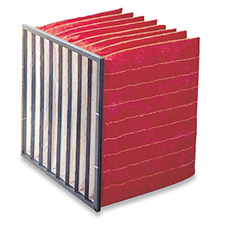 [+]
S-Flo Bag Filters
[ Bag filters with synthetic coarse fiber media ]

Synthetic media for high strength and removal of nuisance contaminants such as pollens, paper dust and atmospheric impurities. Economical choice for commercial and industrial applications.

Description: Multi-pocket high efficiency filters with synthetic media for commercial applications.
Typical applications: Built-up filter banks, rooftops, split systems, free-standing units, package systems and air handlers.
Efficiency: MERV 9, MERV 11, MERV 13, and MERV 14.
Media: Synthetic media in a uniform high loft media blanket with a permeable media support backing.
Recommended final pressure drop: 1.0" w.g. when operated at 500 fpm. System design may dictate alternative changeout point.
Temperature: Maximum continuous operating temperature of 158º F (70° C).
Ratings: ECI value of three stars, UL Class 2.




View Spec Sheet |

Available Sizes/Dimensions |

Buy Now


© 2020 Filter Sales and Service, Inc.