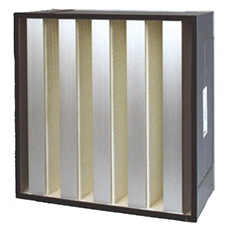 [+]
Filtra 2000
[ Absolute Filters ]

• High filter surface area offers low pressure drop for energy savings and longer life
• Airflow capabilities up to 2400 cfm with low initial pressure drop

Description: High capacity HEPA/ULPA grade filter in an anodized aluminum enclosing frame with seamless poured-in-place sealing gasket
Typical applications: Built-up filter banks, rooftops, split systems, free-standing units, package systems and air handlers in medical facilities, pharmaceuticals, and clean process manufacturing.
Efficiency: 95% to 99.999% at 0.3µ to
Media: Microfine glass media formed into individual mini-pleat media packs and assembled into a V-bank filter configuration.
Recommended final pressure drop: Consult factory. Rule of thumb: change filter when the initial pressure drop doubles.
Temperature: Maximum continuous operating temperature of 175º F (79° C).
Ratings: Tested in accordance with IEST Recommended Practice for Testing HEPA Filters. UL 900.




View Spec Sheet |

Available Sizes/Dimensions |

Buy Now


© 2020 Filter Sales and Service, Inc.