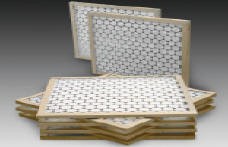 [+]
Fiberglass Throwaway
[ ]

Fiberglass disposable panel filter has set the standard for quality and durability. This rigidly constructed air filter maintains its integrity where others fall short. ~ Construction: disposable panel filter uses a progressively dense fiberglass or 100% non-woven polyester media to maximize its high dust holding capacity. The media is encapsulated between two metal grids to maintain integrity under adverse operating conditions. The closed corner construction prevents dust laden air from bypassing the media through open corners. The filter frame is clearly marked with size, U.L. classification and air flow direction. ~ Applications: disposable panel filter can be used as a direct replacement for filters supplied in original equipment. Standard sizes are available in 1" and 2" depths to accommodate most filter tracks. Any application can be accommodated with our special sizes, available in 1/2", 1" and 2" depths. ~ Options: Available with tape around the filter frame for added protection against moisture and/or support bars for added rigidity. ~ Specifications: The standard size filter element shall be constructed of a single piece of heavy-duty, one piece craftboard frame. All corners shall be closed and sealed. The fiberglass filter media shall be coated with a non-toxic, non-flammable, odor.



View Spec Sheet |

Available Sizes/Dimensions |

Buy Now


© 2020 Filter Sales and Service, Inc.