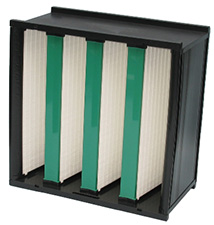 [+]
Durafil ESB
[ V-Style Filter ]

V-style air filters offer high efficiency micro fine media in multiple filter banks arranged in a V-shape. This configuration can increase the media area significantly when compared to standard box filters or short depth bag filters reducing system pressure drop significantly. Unique dual layer media in the strongest moisture resistant beverage board enclosing frame.

• Dual headers for front loading filter installations
• Lowest Life-Cycle Cost (LCC) filter available
• Fine fiber ensures that the filter will maintain efficiency throughout its life in the system
• Lowest initial pressure drop of any dual header box style air filter

Description: High capacity, high efficiency, V-style air filter in an all plastic enclosing frame.
Typical applications: Built-up filter banks, rooftops, split systems, free-standing units, package systems and air handlers that require a filter with dual headers.
Efficiency: MERV 11, MERV 13, MERV 14 and MERV 16 and a MERV-A of 11, 13 14 and 16 respectively.
Media: Microfine glass media in a mini-pleat design formed into multiple V-bank media packs.
Recommended final pressure drop: 1.50" w.g. when operated at 500 fpm. System design may dictate alternative changeout point.
Temperature: Maximum continuous operating temperature of 175º F (79° C).
Ratings: ECI value of five stars, UL 900.




View Spec Sheet |

Available Sizes/Dimensions |

Buy Now


© 2020 Filter Sales and Service, Inc.