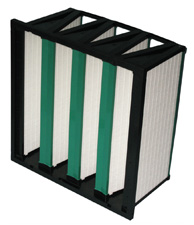 [+]
Durafil 4V
[ V-Style Filter ]

Durafil 4V The Camfil Farr Durafil 4V provides high-efficiency ASHRAE performance in a compact, energy-efficient design. The Durafil 4V: • Includes a wet-laid, microfine glass media in a unique pleat-in-pleat V-bank design with up to 200 square feet of media area (more media than any other ASHRAE grade filter) for higher dust-holding capacity, longer system life and a lower average pressure drop. • Is available in four standard efficiencies • Media is water resistant. • Includes glass filament separators to ensure uniform airflow throughout the media pack. • Incorporates a unique sealant channel ensuring media pack-to-frame bonding to prevent air bypass. • Includes a high-strength, impact-resistant plastic enclosing frame with modular plastic media pack supports, ensuring a rigid and durable filter. • Includes a one-inch header for added stability and a secure fit into the filter holding mechanism. The header is an integral component of the frame. • Includes a header sealing gasket to ensure no air bypass between headers in multi-filter systems. • Is bi-directional, airflow can be in either direction. • Can serve systems with airflow capacities to 3,000 cfm and has a maximum recommended final pressure drop capability to 2.0" w.g. • Is guaranteed to 10" w.g. • Has been qualified by Underwriters Laboratories as UL 900 – Class 2 • Is available with dual headers. The Durafil 2V is excellent for VAV systems, air-starved systems, or any commercial, medical, or industrial application where energy savings is a consideration.



View Spec Sheet |

Available Sizes/Dimensions |

Buy Now


© 2020 Filter Sales and Service, Inc.